From a back-garden shed to a Queen's Award-winning exporter, Electronic Temperature Instruments (ETI) has come a long way since Peter Webb started the business in 1983. In the decades since, the company's story has been defined by determination, innovation and a dedication to representing British-based manufacturing in both domestic and international markets.
A mechanical engineering graduate who had served stints at companies such as Comark Instruments (then the first and only electric thermometer producer around), Peter's decision to set up ETI in his own back garden was inspired by the aunt of his wife, Miriam, who assumed the role of office manager working out of the family's front bedroom.
Peter worked tirelessly creating sensors in the shed and transformed into a workaholic like his father, so much so that even the neighbours started clocking the nocturnal nature of his endeavours.
After a few years, the shed was replaced by a small premises and then another garden-based workshop, before an opportunity to acquire a shop-based site was taken. Backed by a loan from Natwest, Peter and ETI never looked back.
The salmonella scare of 1988 proved a massive turning point. The announcement sparked an upsurge in media and societal attention around being careful with food, a trend which opened up a massive market for ETI's temperature probes among commercial kitchens and caterers. Sales more than doubled in rapid time.
In the early 1990s, ETI was producing handheld thermometers with separate probes. While functional and effective, a Eureka moment arrived when the decision was made to combine the components into a single unit. This would lay the foundation for ETI's hero product, Thermapen. 
After many sleepless nights, several family disagreements and a lot of trial and error along the way, Electronic Temperature Instruments (ETI) has transformed into a fully-fledged British manufacturer which proudly produces and distributes products such as Thermapen to the world.
Today, the company stands as the UK's largest manufacturer of digital thermometers, with extensive product ranges in hygrometers and other analytical instruments. We cater to an array of industrial sectors, including food and catering, healthcare, transport, facilities management (cleaning), HVAC, construction, R&D labs and many more.
Thermapen ONE is one of ETI's most advanced models. Reading temperatures in just one second, it is arguably the fastest and most accurate of its kind on the market having started its development journey in the 1990s. It has proven incredibly popular both among domestic and commercial customers, helping the business to drive record revenues in 2020 despite the disruption caused by the pandemic.
Presently, ETI operates from four factories in the Worthing area. We have 190 employees led by 10 specialised managers, and continue to work to an objective of introducing at least three new products each year.
The year ETI was founded by Peter Webb.
The number of employees that are part of the ETI family today.
The number of product lines ETI currently produces.
A modern, international company
ETI is grounded in the belief that British quality sells. As a proud UK exporter, we remain determined to make our country competitive on the global stage.
Our distribution partnership in the US, ETI-Thermoworks, has been thriving since the late 1990s and has directly impacted the development of our products based on American consumer insight. Meanwhile, we continue to have long-term exporting relationships with distributors in the likes of Spain, South Africa and Cyprus.
And we continue to show that British-made can also mean efficiently made. Since starting production of the Thermapen, we have been able streamline processes and cut production time per unit from around 10 minutes to under three.
Continually Recognised for Excellence
Our sustained exporting success has led us to three Queen's Awards in Enterprise for International Trade during the last decade. Alongside this, we were also recognised with a Queen's Award for Enterprise for Innovation in 2018 and have secured numerous local and national accolades over the years.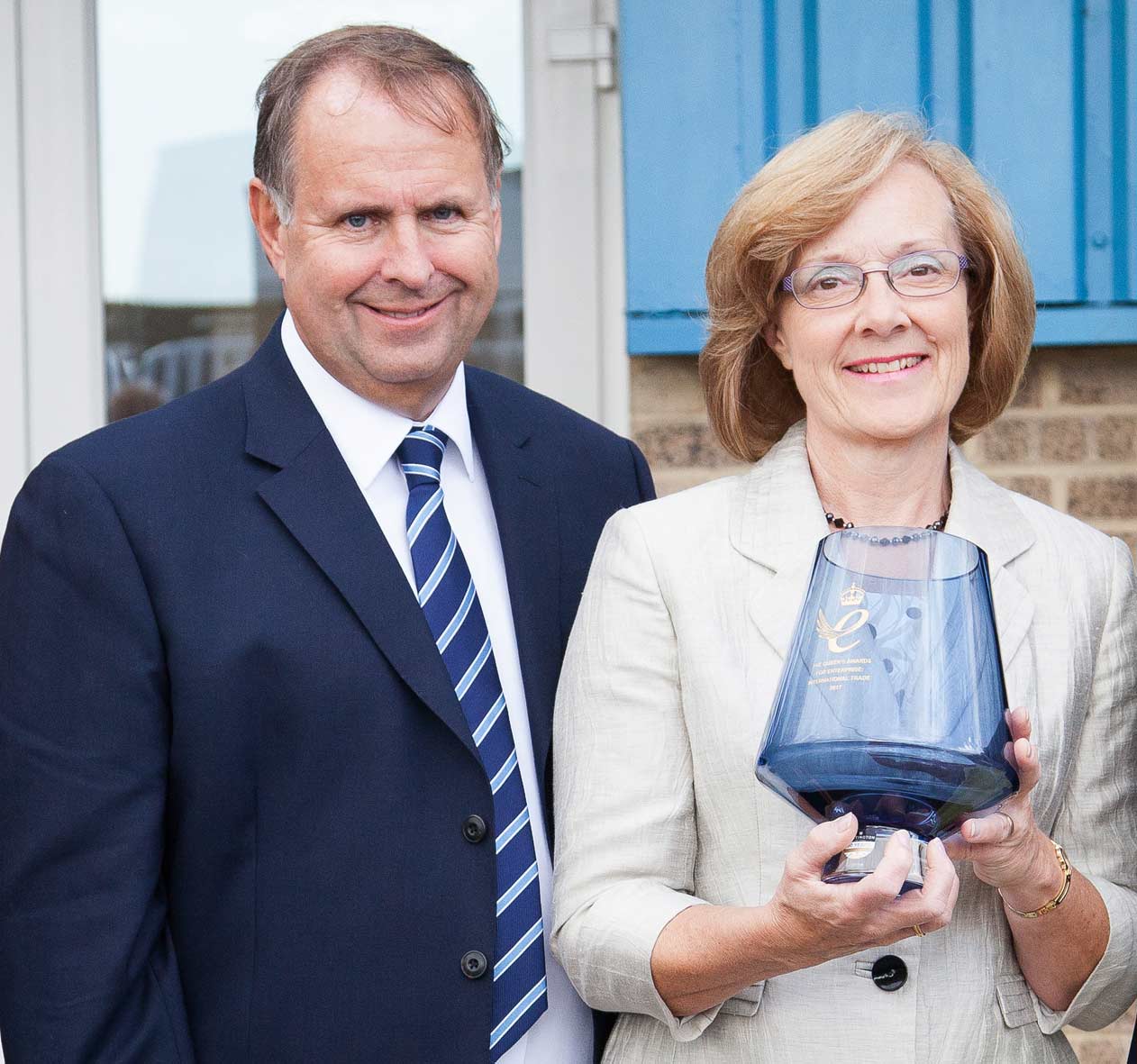 2012 Queen's Award: International Trade
2014 Queen's Award: International Trade
2017 Queen's Award: International Trade
2018 Queen's Award: Innovation
A family business at heart
ETI has come a long way since the early days of Peter producing sensors out of his garden shed. But despite the business being much greater in terms of size and stature today, family remains the core of our DNA.
We are still a proudly British family firm made up of 190 hard working colleagues. And we want that family to continue growing in the future as we seek to drive innovation in the temperature monitoring market and support more consumers and businesses with accurate, reliable and functional solutions.
"Why can't we continue to grow and keep producing thermometers in the UK for as long as possible into the future? ETI has a tremendous heritage, one that I want to continue as a profitable company in 20 years' time. I've got big boots to fill, but like Dad I have a competitive edge which means I like to beat records." – Jason Webb, Managing Director
Become a Part of ETI's Journey
If our story has inspired you to, check out our careers page and please do not hesitate  to contact us. There are many chapters still to be written.